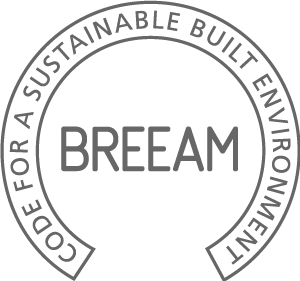 Technical information
Raised floor:
it is part of the standard configuration in the office areas.
Suspended ceiling:
drywall suspended ceiling with sunk designer lighting is part of the standard configuration.
Load capacity:
in case of a generic office floor the load capacity is 5 kN/sqm, and 10 kN/sqm at the central pillar line, for server or archive rooms.
Floorings:
modular broadloom carpet in the offfice areas, 1st class ceramic tiles in common areas and rooms with running water.
Uninterruptible capacity:
the configuration of uninterruptible capacity in the rented office areas is possible based on a later agreement.
Heating and cooling: the building is fully climatised, with pre-treated and filtered flowing air. Heating and cooling is provided by fan-coil plants installed according to the renters' configurations.
Ventilation:
flexible from 8 sqm/person.
Building management:
the functioning of the building's technology can be monitored and controlled on the necessary points through a management system.
Electrical endpoints:
2x2 pieces of 220V and 1X44 pieces of IT plugs per working stations when designing the electrical endpoints (counting with an average sqm/person sitting density).
Entry system:
the lessor has installed an entry system with entrance points at the entry and exit gates of the parking lot, at the forefronts of the elevators and at the entries of the rent spaces.
Video surveillance system:
the building is equipped with a surveillance system using cameras at the personal and car entrances and at all entry points.
The full version of technical content is provided by the lessor.