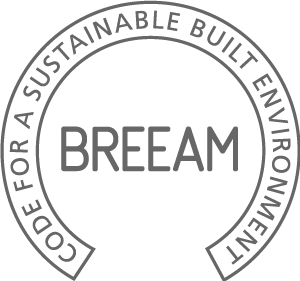 About the building
Bécsi Corner office building was constructed by Biggeorge Property Ltd., one of the most important real estate developer companies of the local market with private Hungarian ownership.
In 2011 May the building has received the first prize on FIABCI's International Real Estate Development Prix d\'Excellence contest in the monumental development category.
The office building was constructed in 2009, in the center of Óbuda, at the feet of the hills. Old and new buldings unite in harmony on 5000 sqm, where 8660 sqm office and 1940 sqm of restaurant and commercial space was created. Preserving the originality of the old and protected monumental buildings was a top priority during the project.
The most characteristic member of the building complex is the last century school that strongly defines the scene of the whole square with its classicistic façade. Behind that, on the side of Bécsi street, hides the two-story baroque brewery or 'Serház', which, thanks to the renovation, has gained back its original form. Next to it, all the way until Sajka street there are traditional, single-floor houses, typical of Óbuda, which have also been renewed with the remodeling of the office building. The new office wing, that follows the guidelines of the older buildings in its appearance, was built on Lajos street's side neighbouring Sajka street. This and the former school building serves as the location for the office spaces that feature all available technological possibilities, thus fulfilling even the highest expectations.